Ingredients
½ cup (120 ml) peanut butter
½ cup (120 ml) honey
½ cup (120 ml) coconut oil
2 cups (475 ml) rolled oats quick cooking
1/2 cup (120 ml) chocolate chips 60/100 cacao
1 teaspoon (5 ml) vanilla extract
Fresh mint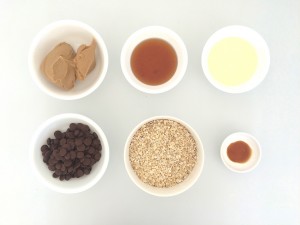 Method
Combine in a saucepan peanut butter, honey, coconut oil and vanilla.
Heat over low heat, stirring with a whisk.
When the mixture is liquid and homogenous, add the chocolate chips and stir until melted.
Remove from heat. Add and mix in oats.
Form circular-shaped bites and place on a baking sheet lined with parchment paper.
Cool in the fridge for approximately 30 minutes.
Place each one in a paper cupcake liner along with fresh mint. Keep in Freezer.