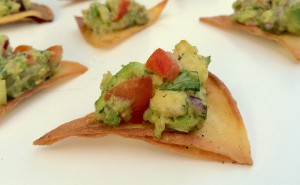 Ingredients
2 Hass avocado (fresh yet soft to the press)
1 lime, juice of
½ cup red (or white) onion, diced
½ cup plum tomato, diced
2 tablespoon fresh cilantro, finely chopped
1 or 2 fresh Serrano peppers, with seeds, finely chopped
1.4 teaspoon of salt
Fresh ground pepper
Preparation
Chop all ingredients except avocadoes.
Cut avocados in half and remove pits.
Scoop the avocados into a bowl, toss and coat with lime juice.
Coarsely mash.
Add the onions, tomatoes, Serrano peppers.
Stir to combine.
Serve fresh or cover to prevent the avocado from turning brown.
Home Made Tortilla Chips
Ingredients
Plain tortillas (cut each one into 6 even slices)
Oil (preferably Canola, grapeseed or corn)
Salt
Preparation
Fry the tortillas in a shallow pan of oil
Salt
If you would like a low calorie version, you may also grill, baked or microwaved the cut tortillas.