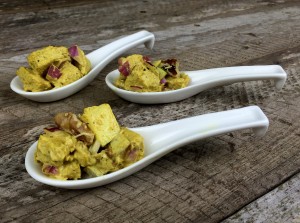 Ingredients
2 cups diced chicken (1 lbs.)
2 green apples, diced
½ red onion, chopped
6 tablespoons walnut, coarsely chopped
5 tablespoons mayonnaise
3 tablespoons mustard
2 teaspoons curry powder
2 tablespoons of water
Preparation
Place 2 free roaming, organic, skinned chicken breasts (1 lbs.) in 2 inches of boiling water. Cover and boil at medium heat for 15 minutes. Remove chicken from pot and let cool down 15 minutes. Cube or shread.
Combine mayonnaise, mustard, curry powder and water in a medium bowl. Stir with a whisk until blended.
Add the Chicken, apples, onions and walnuts. Stir. Ready to serve!