Ingredients
1 pound potatoes
½ cup of finely chopped onions
1 egg, lightly beaten
¼ teaspoon salt
½ cup olive oil
Preparation
Preheat oven to 250°F.
Peel potatoes and coarsely grate.
Transfer to a large bowl of cold water as you go.
Soak potatoes 2 minutes following last batch.
Drain well using a colander.
Lay potatoe & onion mixture on a kitchen towel and roll into towel. Twist as you would a toffee wrap to remove as much liquid as possible.
Transfer mixture to a bowl and stir in eggs and salt.
Heat olive oil in an 8" nonstick skillet over moderately high heat until hot but not smoking.
Spoon in 1 tablespoon sized latkes. I used a cookie mold (1.5″ diameter) for these but a fork can also be used to flatten each one in the skillet.
Cook until golden, approximately 5 minutes each side.
Transfer to paper towels to drain.
Keep latkes warm in oven until serving.
Comment
Soaking and draining the mixture before cooking prevent the latkes from turning brown too quickly allowing for latkes to become more flavorful.  They can be made a few hours ahead. To reheat, place in oven at 350°F for approximately 5 minutes.
Accompaniments
Smoked salmon and crème fraîche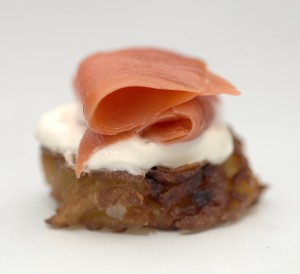 Using thin sliced salmon will make better looking hors d'oeuvres. The crème fraîche can be bought in most supermarkets and should have the consistency of whipped butter.
Yogurt & Applesauce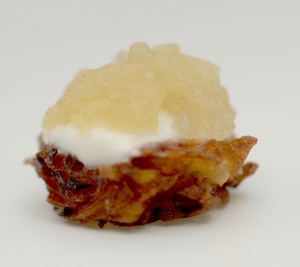 It's worth making your own apple sauce for these, chop 3 apples coarsely, add 4 tablespoons of water and a teaspoon of sugar. Boil in a covered pot for about 5 minutes, turn off and leave the lid on until the apples cool down. Once cooled mash lightly with a fork. Serve a generous portion over plain fat-free yogurt. It's a fantastic breakfast!
Salmon roe or other caviar and crème fraîche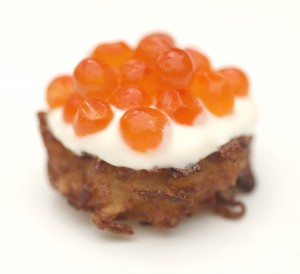 It doesn't get much better than that…