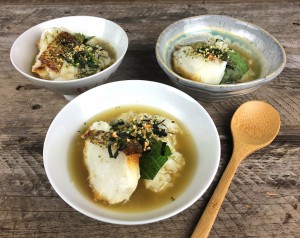 Ingredients
½ lb. Chilean Sea Bass
3 tablespoons Olive oil
1 ½ cup warm cooked Japanese Rice (uruchimai)
4 shiitake dried mushrooms
2 tablespoons of low sodium, gluten-free soy sauce
1 tablespoon of Bonito Flakes
1 teaspoon roasted brown rice green tea
1 ½ cup of hot water (175°F)
2 Shiso leaves in half, in a diagonal (or basil)
Freshly grated wasabi (or a dab of prepared wasabi), for garnish
1 teaspoon Rice Seasonings (Yasai Fumi Furikake)
Method
Prepare the Japanese rice and set aside.
Broth Preparation: Fill a pot with 2 cups of cold water. Add shiitake mushrooms, low sodium gluten-free soy sauce, Bonito Flakes and roasted brown rice green tea. Bring to a boil over medium heat and set aside. Strain liquid and discard the solids. Pour liquid into a teapot.
Remove all pin bones from Chilean sea bass. Heat pan, once the pan is hot, pour the oil.  Sear the fish skin side down first. Leave long enough for skin to become crispy, about 1 1/2 to 2 minutes. Gently turn over and sear flesh for approximately 1 minute. Drain on paper towel. Before serving cut into 4 pieces.
In each bowl, place approximately 1/3 of a cup of cooked rice, half of a Shiso leaf and place the seared sea bass over the Shiso leaf. Just before serving, pour liquid around the inside edge of bowls until ¾ full. Garnish with rice seasonings. Top with wasabi to taste and enjoy!